Celia Rosser paints her own Banksia
Submitted by adminuser on 3 July 2006 - 1:54am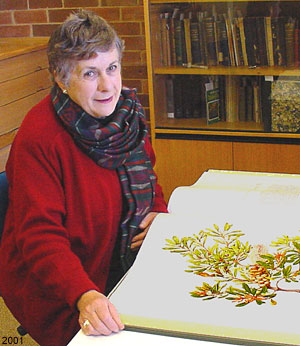 Celia Rosser, one of the most talented botanical artists of the last 100 years has had the honour of painting the Banksia named after her. Banksia rosserae was discovered in the year 2000, but its bright yellow flowers had not been seen since last month. Only 27 plants have been found in the wild and the location is kept a secret.
The Age reports that last month Ms Rosser, 75, flew to Perth and drove hundreds of kilometres with a party of botanists and Banksia enthusiasts to witness the flowering of the plant.
"It's such a special flower, gorgeous and round," she said.
Photo courtesy of the Australian National Botanic Gardens